10 Concept Cars
Image courtesy Royal College of Art
The Airflow by Pierre Sabas of France has wheel-mounted electric motors and is made entirely of glass. "I've tried to wrap it around like fabric. It allows for a new driving sensation and it gives the occupants a new perception of the outside world," he says. The car won the Best Design Interpretation Award at the Pilkington Automotive Vehicle Design Awards.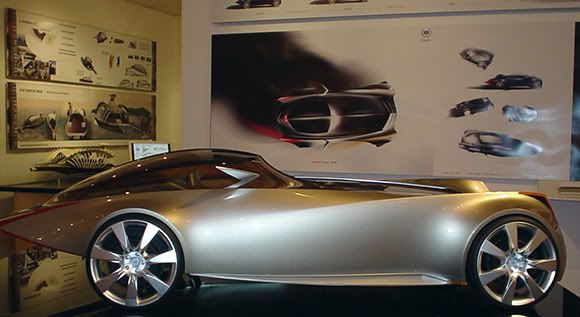 Image courtesy Royal College of Art
Yun Woo Jeong's "Transform" might be the offspring of an unholy marriage between Optimus Prime and a Morgan. It has a transparent elastic top that can be stretched to any shape to suit the driver's needs and mood. "I've been interested in 'transformables' since I was a boy," says Jeong. "It is common to boys across the world. How many transformable robots have passed over our memories? Why do they generate so much enthusiasm? Some say it's childish. But I assume it is human instinct."
Image courtesy Royal College of Art
Raquel Aparicio Lopez's "Soft Vehicle" is made of foam. You stash your stuff in a boot, er, trunk that opens with a zipper and you climb in through "a sensual slit" and sit in a seat surrounded by impact absorbing "jelly balls." The Spanish designer believes softer cars are safer cars. "I would like to extrapolate rubber, textile and other soft materials into vehicle design," she says.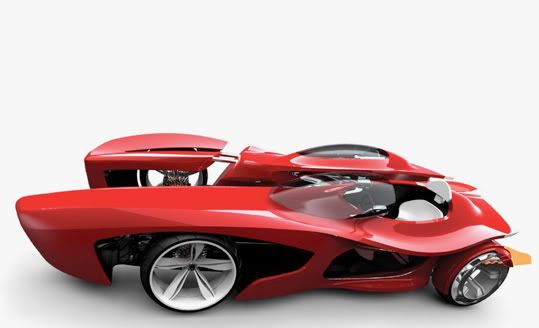 Image courtesy Royal College of Art
Sergio Loureiro Da Silva designed "Phoenix" for maximum efficiency. There's a turbine up front, a kinetic axis -- whatever that is -- and electric motors at the back. The Spanish designer likens the vehicle to a motorcycle with a sidecar, but it looks to us like something you'd see in a pod race on Tattooine.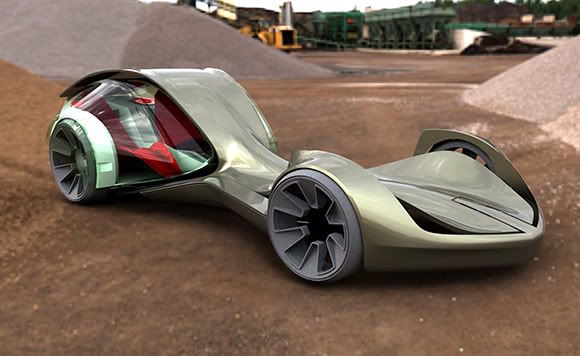 Image courtesy Royal College of Art
Paul Howse wanted to offer a new definition of luxury and exclusivity with "Enigma." It's an electric vehicle that ideally would get its power from the sun, and the passenger compartment uses magnetic levitation to isolate it from the rest of the car.
Image courtesy Royal College of Art
Joonas Vartola's "Iomega" isn't so much a car as a "relaxation capsule" with a chauffeur. Vartola says the shape of a swan inspired the exterior. Driver and passengers sit in separate compartments, which "fosters the idea of this being a passenger car rather than the usual driver's car architecture," the Finnish designer says.
Image courtesy Royal College of Art
"I'm thinking about a new way of consuming cars," says Italian designer Ilaria Sacco, by allowing a high level of personalization. She calls the car "My Lounge," and it takes an Ikea approach to design by allowing buyers to pick everything that goes into it, "like how you would design your living room." (Hex wrench not included.)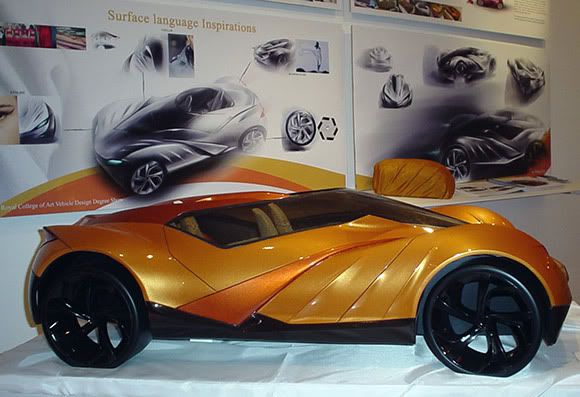 Image courtesy Royal College of Art
Dong Kyu Kim of South Korea was influenced by fashion design, and "Chameleon" takes its styling cues from shirt collars, blowing scarves and women's eyeliner. The car is asymmetrical because, "like a good dress, it will never be perfect," and paramagnetic technology allows it to change colors so it'll always match your outfit.
Image courtesy Royal College of Art
None of the technology Spanish designer Arturo Peralta Nogueras has planned for his vehicle exists yet, but if you're gonna dream, dream big. "Senses" runs on algae and features an exterior made of "solid hologram technology," whatever that is. It's also got artificial intelligence, and the interior "evolves and adapts to its environment, passengers and scenarios," though we're not sure how. No matter. It sure looks cool.
Image courtesy Royal College of Art
Jon Radbrink of Sweden also has a thing for glass. He used a whole lot of it on "Lexus Nuaero," his gas-electric hybrid. "I was inspired by architecture and used glass in conjunction with other materials to create a layered effect that gives the feeling of transparency for the occupants," he says. The Pilkington judges liked it enough to give it the Best Use of Glazing -- that means glass -- award.
Called the Lexus Nuaero, it features motors in the wheels and a touch-screen dashboard where the information and controls can be moved around.

Image courtesy Royal College of Art
Swedish automotive design graduate Jon Rådbrink presented a concept for a catamaran-shaped car at the Royal College of Art graduation show in London last month.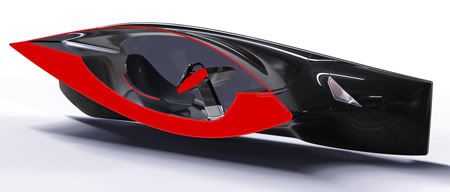 Also an automotive design by Jon Rådbrink